Finance
8 Questions to Ask Yourself Before Taking A Personal Loan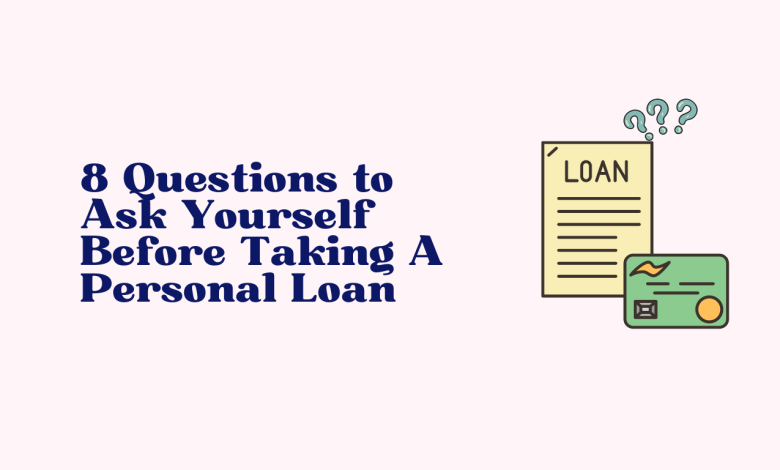 There are numerous occasions throughout each day when we could use a little extra liquidity. Managing wedding costs, paying for medical expenses, exotic vacations, and home improvements are just a few of the reasons why people are eager to seek for loans to help them out of a financial mess. It's not at all a bad idea to apply for a small personal loan to help you satisfy your requirements. However, it's crucial to ask yourself the following questions before you complete the papers and submit your application:
Do I really need a personal loan?
When you borrow money from a lender, you have to agree to their terms and conditions. It implies that you will have to set aside some of your future income to pay your debts on a monthly basis. If your income is restricted and you don't anticipate a future financial improvement, stop and consider your options. Never submit an application for this loan if it would strain your finances. 
Are you borrowing only the amount that is necessary?
Before submitting an application for a personal loan, you must have the answer to one of the most important questions: how much money do you actually need to borrow? Be aware that a lender will determine your eligibility for a loan amount based on your financial situation and credit score. But in order to avoid borrowing more than you need, you must be aware of how much money you actually need.
Your ability to repay your lender more quickly and simply will increase with the amount of money you borrow from them. You should only borrow what you absolutely necessary while arranging other preparations.
What is my credit score?
Personal finance is an unsecured form of debt, as you may already know. Consequently, you can obtain a loan without having to promise the lender any of your assets as collateral. As a result, in order to get approved for a loan, lenders require you to have a good credit score.
As a result, if you've already made up your mind to use personal credit, be careful to verify your credit report before applying. Because if your score is poor, it's possible that your application will be denied or that you'll pay a higher interest rate on a personal loan.
Can I afford the EMI?
Examine your finances in great detail before applying. As a general rule, ensure that the EMIs account for only 15 to 20 percent of your monthly income. Anything more than that can end up costing you money down the road.
Choose lenders who offer reasonable interest rates or who let you choose your own repayment schedule if you want reduced EMIs. For instance, if a lender offers a flexible repayment plan, you can choose a longer loan term to pay less interest overall. You could benefit from using a personal loan EMI calculator when making your plans.
Am I eligible?
Lenders have additional conditions for personal loan eligibility outside credit score requirements. Age, income, and employment criteria are frequently among them.
As a result, before applying, be sure to carefully review all the requirements. If conditions are not met, your application may be delayed.
Is the EMI comfortable for you to pay every month?
One of the most crucial figures you need to keep in mind when applying for a personal loan is the monthly installment amount or EMI. The loan amount, interest rate, and tenure are the three variables that determine EMI.
To determine the EMI amount that you can comfortably pay each month, utilize an EMI loan calculator. You can alter the three variables to watch how your EMI varies and gain insight. Reduce the loan amount as much as you can. 
What will be the interest rate?
Never agree to the interest rates offered by the very first loan provider you contact. Find the lender who offers the best rate for your tenure and loan amount by shopping around. Keep in mind that you can request lower interest rates from lenders if you have a strong credit score.
One of the biggest errors people make when applying for personal loans is failing to read the fine print. Before submitting the application for a personal loan, make sure you have read the terms and conditions. Make important to find out whether there are any additional fees or costs associated with the foreclosure of your loan.
What is the tenure of the loan?
Most people solely consider the interest rate when applying for personal loans. They are unaware of the fact that the loan's term is also crucial. These loans can often be taken for a period of 6 months to 5 years. Keep in mind that the tenure and interest together will determine the amount of your monthly repayment. 
Conclusion
The questions listed above can assist you in selecting a personal loan that meets your financial needs. After considering the aforementioned inquiries, do a soft inquiry on the lender's website or on a marketplace for unsecured loans to explore your possibilities without negatively impacting your credit score.