Finance
Financial Adviser vs Financial Planner: What's The Difference?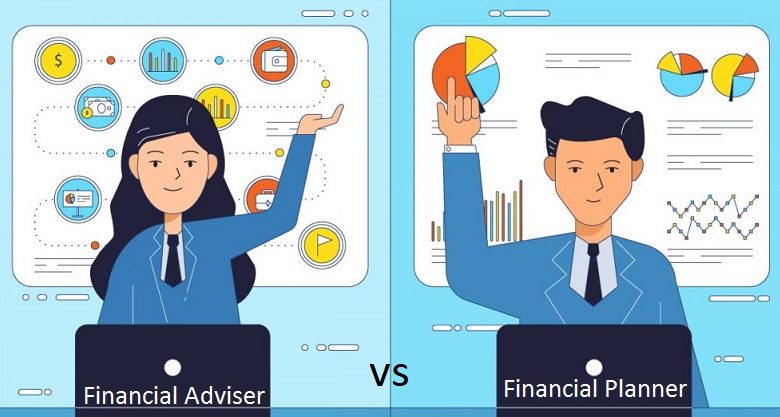 There are strict rules about how the term financial planner or financial adviser can be used in several places worldwide. On the other hand, things are not the same in that regard over here in the United Kingdom.
In the UK, anyone who works as a financial adviser can call themselves a financial planner. It is even if they don't actually do financial planning. Some people use the terms financial planner and financial adviser interchangeably. But the two types of professionals who give financial advice are very different in significant ways.
Here, we've explained everything you need to know about both the terms and they can benefit you.
What Does A Financial Adviser Do?
A financial adviser's main jobs are to set up a pension plan, choose an investment, and choose an insurance company.
Financial advisors work independently and often focus on one problem at a time. They don't think at all about how things fit together. Instead, they take a limited view of the problem. The advisors only give you advice on the things you have asked about.
For example, you might want to know one thing. It is how to make the most of a one-time investment over a number of years. Or need advice on taking bad credit loans such as personal loans or loans for bad credit with no guarantor to cover your extra expenses. A financial counsellor will look at all of your options and give you the best investment or loan advice.
If they don't look at your finances as a whole, they might miss an essential part of the problem. Putting a lot of money in stocks might not be the best idea. What if you need to use it for something else instead?
Financial advisors are very important, but they can't answer the most fundamental questions in a satisfactory way. Questions like,
"Will I be okay?"
"When will I have enough money to retire?"
"How much money will I have saved up by the time I retire?"
Another problem with financial advice is that it puts too much weight on different financial goods. Many financial advisers only get paid if they tell their clients to buy a particular product. It is such as an individual savings account (ISA), a pension, or another type of investment.
Here are the statistics on how many people hire financial advisors in the UK:
The research found that just 8% of individuals in the UK employ the services of a financial advisor. On the other hand, this percentage jumps to 17% for persons who have investable assets worth more than £10,000. 38% is for those who have assets worth more than £250,000.
What Does A Financial Planner Do?
An independent financial planner will look at your money as a whole. He plans it in a way that takes everything into account. This will ensure that your financial planning is done in an effective manner. A financial planner can help you figure out what you want out of life. Then, he helps you come up with a plan for your money to help you get there.
Financial planners focus on you and your goals, while financial advisors focus on your finances and assets. Financial planners use their broad knowledge of things like:
Accounting
Keeping track of expenses
Planning for retirement
Managing investments to help you make a plan that considers your whole financial situation
Your capacity may improve to foresee your financial future more clearly. You feel more secure if you seek the assistance of an independent financial planner. Now you're in charge of your money.
A financial planner will help you make a plan for your money that will guide you through your future finances. The financial plan will include your current situation and goals for the future. It is also a plan to help you reach your goal.
But an individual savings account (ISA) or a pension, are tools that help the financial plan reach its goal.
How much does it cost to hire a Financial Adviser or Financial Planner?
Most independent financial advisors or planners are paid a fee for each service they provide. Each person's cost depends on their situation.
Most of the time, it's better to hire a financial planner from a financial point of view. This is because working with a financial planner means that your financial situation will be looked at in detail.
You will get a personalised financial plan and a full review of your tax situation, pensions, and investments. You will also receive instruction on how to improve in each of these areas.
When do you need Financial Advisor vs Financial Planner?
You may need help with your finances. There is a chance of finding that both a financial planner and a financial adviser can help you. Your opinion of each choice depends on your situation.
For example, a financial adviser can usually help you a lot. It is when you have problems that need to be solved quickly. Or if you want help with specific questions or investments. On the other hand, you may wish to help come up with a detailed plan. You have to think about how to handle your money over the long term. You should probably work with a financial planner.
A financial planner may be the best fit for you in these cases:
If you need help developing a plan for your finances over the long term.
If you want to know more about how your money will likely change over your life.
Having a significant change in one's life, like getting married or having a child, for example,
You're almost ready to retire and want to make sure you've saved enough money.
Or need help making a budget, saving for college, or dealing with debt you already have?
Want to start planning how you will give your big assets to your heirs and other beneficiaries?
A financial advisor may be the best fit for you in these cases:
If you need help making a financial decision or figuring out how to invest.
You don't have enough faith in yourself to make money decisions on your own.
If you borrow money online UK and need someone to help you use them for investments.
If you have enough money and only need counselling once in a while, you might want to hire an advisor.
Conclusion
You may want to do is open an individual savings account (ISA). Besides, you don't want to think about the bigger picture. In such a scenario, your best bet is to work with a financial advisor. On the other hand, financial planning is the way to go. It is if you want to regain control of your finances and make a plan for the future.
You want to hire a financial planner or advisor to help you manage your money or investments. It's essential to do your homework and find out their qualifications. This means finding out if they have a valid licence and how long they've been in business.
Be sure to ask the planner or advisor specific questions about their training and credentials. For example, they specialise in estate planning or tax planning. Also, you should know how the financial planner or advisor gets paid and what they can expect in return for their business.