Business
Virtual Accounting: Benefits and Why It's here to Stay
The pandemic proved to be disruptive for accountants in 2020. CPAs, bookkeepers, and accountants had to adapt to the pandemic, which meant they could work remotely and move their businesses to home. As the benefits of virtualization seem to outweigh any costs, more accounting firms are trying to be fully functional online. Many small businesses are still open to the idea that a virtual accountant is possible. Let's look at five reasons virtual accounting is here for staying.
The Benefits of Hiring A Virtual Accountant
Online accountants can help you save time and provide the convenience of accounting from anywhere, anytime. This will allow you to increase productivity.
1. Less paperwork and increased efficiency
Cloud storage technology allows virtual accounting companies to store digital copies of client records. This provides significant benefits for their clients' data retention needs. Virtual CPA firms can scan sensitive documents so clients have easy access to all copies without having to carry physical copies.
2. Online accountants are available whenever you need them
You can reach your virtual accountant via phone or zoom call anytime you need them. They will respond quickly to any questions you may have. Virtual accountants are now easily accessible via technology without the need to be present at your company.
3. Virtual Accounting Services can be delivered on your schedule
You may require accounting support daily, weekly or monthly, depending on the business you run. These needs can be easily met by a virtual accounting service. Virtual accounting services are cheaper than in-house accountants. Your virtual accountant will deliver the work according to your business schedule.
4. Technology's power and security are increasing
Business owners can access financial statements via cloud computing on a pre-determined schedule. Access to financial documents will be available 24/7 for business owners from any device that has secure internet access. Data centers that protect financial information from natural disasters like fire and floods are where your data is safe.
5. Save Significantly on Your Costs
There are many costs involved in hiring a full-time accountant, such as salary, insurance, and payroll. An accountant may need to be provided with office space in order to function effectively. Virtual accountants can help you save significant money by only paying one cost. Pay only for what you use, so there's no need to pay extra if you don't have enough work.
6. Scalability
Online accounting services are easily adaptable to your business's needs. Virtual accountants can adapt quickly to increased work volume such as complex transactions or higher complexity. You won't have to pay for extra resources if your business slows down. Virtual accounting services offer the option of paying as you go. You can scale up immediately without having to incur overhead costs or spend a lot of time hiring new staff if your business grows quickly.
7. Skill Set and Specialized Services
Remote accounting firms allow you to hire talent anywhere. It is possible to find the right accountant for your industry who understands the accounting principles that apply to your business. Virtual accounting services can also provide a team of accountants so that you have the flexibility to bring in additional resources if needed.
8. Detailed Reporting at Your Fingertips
Virtual accounting firms usually have the processes and procedures in place so that clients can receive detailed reports on a set schedule. You will also be notified promptly about any pending issues. Virtual CPA firms can also help you keep your business updated about any changes in regulatory or compliance environments.
How do I hire a virtual accounting service?
Many small businesses have never thought of hiring an online accountant. Start by researching online. Although there are many virtual accounting firms available, some might be better suited for your business than others. Before you hire a virtual accounting company, here are some things to think about.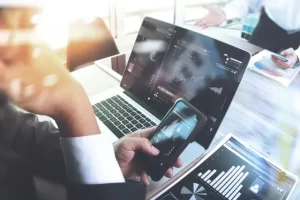 What services are they offering?
Are they able to provide a monthly reconciliation of the accounts of your business?
Are they available during business hours?
They will ensure that your business is compliant with tax laws.
Is this a service that will really benefit your company?
How to Succeed With a Virtual Accounting Firm
Working with a virtual accountant requires communication. Set up regular meetings to allow your service provider to answer any questions. As your trusted business partner, the virtual accountant can help you set
clear expectations and time frames.
Read More: Get Professional Marketing Dissertation And Guarantee Yourself Success
The Bottom Line
Virtual accounting services can be intimidating and difficult to find. However, they offer many advantages over working with local firms or hiring an accountant in-house. Virtual accounting is here to stay, despite the fact that the pandemic is slowly fading and most accountants will be returning to work in some capacity, due to its many benefits to businesses.