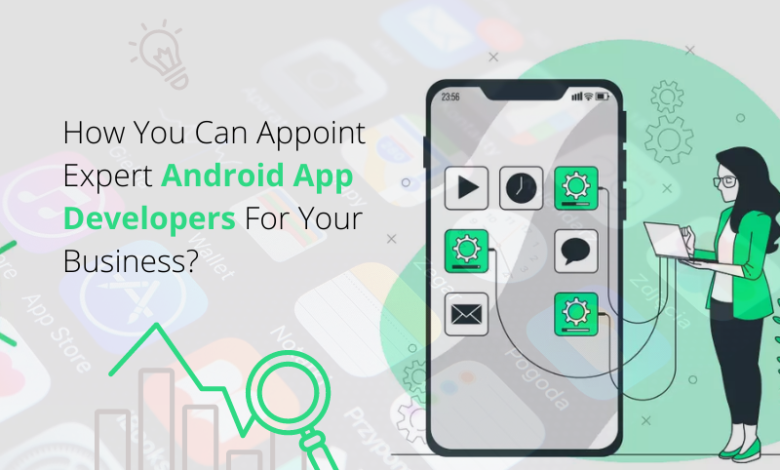 Choosing expert Android app developers is a complex and confusing task. Due to the huge demand for Android app development, you will find a large number of developers around the globe. You can hire any of them for your project depending on their skills and expertise. 
Many business people and app founders often struggle in finding out expert developers for Android projects. There are various things you need to take into consideration while appointing an Android developer. If you don't feel confident in this, don't worry. Here, I will discuss how you can appoint expert Android app developers for your business project. 
1. Hire Android App Developers Who Have a Better Understanding of Android Apps
Android has largest number of users in the world. People like Android apps because they are quite user-friendly and offer ease of use. And since Android rules the mobile app market, you can't comprise the quality of a solution to the competitive advantage. 
Therefore, when you look to appoint or hire Android app developers for your Android project, make sure he or she holds good knowledge about Android apps. The developers should know what type of UI/UX mostly works and what users like the most. 
They should have an accurate understanding of what key elements to add to the app that makes it a valuable digital product for the audience. 
So check his or her general knowledge about Android app development and other essential aspects. It will give you the idea of whether he is aware of the current trends or not. 
2. Have Good Skills in UI and Material Design
User interface is mobile app design are different things. A user interface (UI) lays the foundation of app architecture. Whereas,  the app design deals with overall graphics and appearance elements. 
Generally, an Android app development company or agency keeps dedicated designers for app design and developers for the coding part. In your Android app development too, you may need help from a mobile app designer. 
But it will not only increase the cost of the project but also make the entire process a bit complex. It is because your Android app developers have to work in coordination with app design to adjust to the UI. And all these things will be confusing and lower the quality as well. 
Hence, when you appoint or hire Android app developers, make sure they hold good skills in UI development and material design. It will help reduce the cost and make the development process simple. 
3. Should Know How To Launch The App on Google Play Store
You might feel excited after your Android developers successfully develop the app. But before you celebrate this accomplishment, there is one more last thing that is pending. And that is launching your Android app on the Google Play Store. 
It might sound like a simple task but you should be aware there is a technical process for uploading and launching an app on the Google Play Store. Any mistake or technical error may reject your app from deploying to the app store. As a result, you will have to follow the same process again. 
There are many developers who generally don't have the right knowledge of how to launch the app to the Google Play Store. Therefore, while appointing an expert Android developer, make sure they are expert in launching the app too. 
4. Better Availability
Mobile app development requires consistent teamwork and good coordination. There might be many situations where you have to make changes to your app. So to execute all these things smoothly, you have to work in coordination with your developers. You should ensure they are always available and consistently share the status of the project. 
5. Technology Expertise
There are several tools and technologies for Android app development. React Native, Flutter, Xamarin, Android Studio, and more. Each technology comes with different features for developing apps. So when you hire Android app developers you should check how much the developer is expertise in using popular technologies. 
The developer should know how to drive your app's maximum output or benefits. Apart from this, they should have a good command of Java or JavaScript programming. To validate their technical expertise, you can interview them by assigning a real coding test for the selected technology. 
Conclusion
Android app development is dynamic and promising. It provides frequent updates and great business scope. Therefore, when you hire Android app developers you should know the essential and important things to appointing an expert Android developer for your project. And the above points will help you select the right person. 
About the Author
Erma Winter is an Android app developer at MobileCoderz which is the top Android application development company. She develops Android apps for multiple business needs. She works with startups and app founders to assist them with industry-oriented Android solutions. Besides this, She likes to go on adventurous tours and learn cooking.