Fashion
How to use the right Georgette Fabric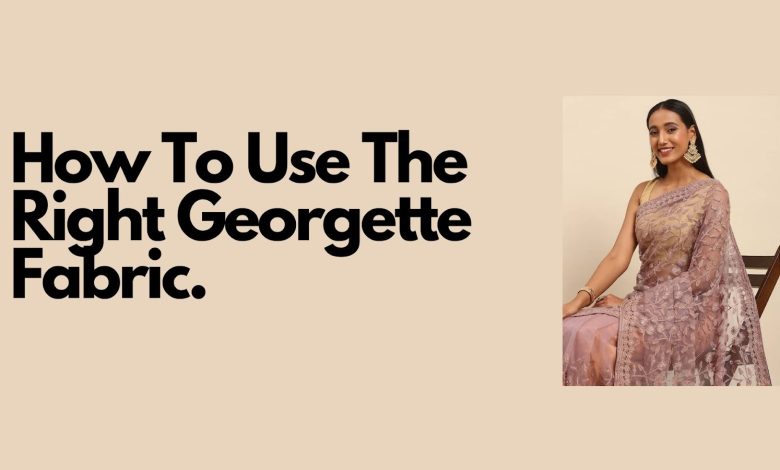 In the early twentieth century a french dressmaker, Georgette de la Plante introduced the phenomenal fabric Georgette to the world, Georgette is a family member of crepe fabric.
This fabric was initially made out of silk making it a bit expensive for everyone to buy, now you'll find my synthetic blended fabrics which makes it more affordable for everyone.
The synthetic fibers used are polyester, nylon, viscose, and rayon. This fabric is made out of silk is slightly crinkled, translucent, lightweight, and has a beautiful matte finish, making it a prior choice for every designer. 
One of the versatile fabrics in the Indian industry is plain banarasi georgette sarees, they usually have floral prints or come in solid pastel colors. With being lightweight it is also comfortable and drapes beautifully bringing an extraordinary charm to you.
HOW IS GEORGETTE MADE?
With tightly twisted S- twist and Z-twist, This material is a part of crepe fabric woven in opposite directions. Because of its tightly twisted weaving, it creates slight pluckers giving it a rough edge and slight crinkle making this unique and exquisite. 
For those who keep on experimenting with their looks and style, this is the epitome of fabric for them. The quality in which this allows the wearer to drape it in every way they want. The best part of this is it suits every kind of body type.
FASHION USES OF GEORGETTE FABRIC
Do you know why Georgette is the favorite among the designers? Because it blends into whatever designs you want to create. Versatility and adaptability is the best two quality and rarest combination a fabric can have, which georgette does. These features let hundreds of ways for a designer to create masterpieces. 
You don't have to think twice before buying a georgette fabric, with being sheer, lightweight, flowy, and everything you are looking for, this fabric lets you show off your amazing curves. It's been a century since georgette is the most loved fabric. Listing out some uses of georgette fabric uses
Dresses

Sarees

Shirts

Gowns

Blouses

Skirts with flares

Tunics and salwar kameez

Evening wear

Salwar suits

Lining

Bridal wear

Scarves and stoles

Bows

Veils

Waist belts and many more
TIPS AND TRICKS TO CHOOSING THE BEST GEORGETTE FABRIC
There are many ways in which you can choose a perfect fabric for you, but to make your life easier we have listed a few pointers to choose the best kind for you. 
The best way to know the genuineness of georgette is to test it from a touch, burn, and water stain test. There are two kinds of georgette fabrics: the natural one; is SILK and the other is faux fabric; polyester, nylon, rayon, and viscose. 
Georgette fabric is sheer and lightweight the pure one, and not as light as the pure one. printed cotton sarees wholesale is quite a breathable fabric. 
With tightly S-twist and Z-twist yarns woven together, they create slight pluckers giving them a slightly rough and edgy texture.
If the georgette you are buying is genuine it will give you a perfect sheerness
The biggest flex is it is easy to dye with the authentic one, whereas faux do release the excess dye when washed.
These fabrics have a slight stretch to them because of the tight weaving they have.
BENEFITS OF GEORGETTE
Some of the benefits which makes georgette unique from other fabric is
BREATHABLE AND LIGHTWEIGHT
Due to being sheer and lightweight, this is quite breathable, but when made with synthetic it is less breathable than the natural one.
It is one of the family members of crepe it has a very nice drape, making it fall beautifully on your curves. This fabric can be added as an outer layer to other fabrics to enhance the outfit more.
This fabric is translucent and has a sheerness to it, a little less than chiffon but it is softer when you choose silk as a base fabric.
As georgette fabric is tight weaving and twisted makes it stretchy and brings out its unique characteristic. 
This fabric is very well known for its characteristic of holding dye really well. The fabric when manufactured is in off-white color making it easier for you to dye it in whatever color, and patterns you want. 
Silk as a fabric is hypoallergenic, which indicates that no chemical materials are in use in this which can make it harmful. These fabric which is hypoallergenic are not just great for skin and health but even amazing for the environment. Harmful chemicals can cause irritation and allergies to the one wearing them.
As This Fabric is thin, sheer, breathable, and drapes beautifully on your body, it is easy for you to maintain and manage it. Even when used as an outer fabric to create an appearance on other fabric it does not add any weight to it.
Also Read: Buy Shorts Online USA – Seamless Underwear Vs. Traditional Underwear.
DIFFERENT TYPES OF GEORGETTE
Georgette being a versatile fabric can be made in many different varieties, each has its own set of pros and cons 
The thicker is what double georgette is, it still has some transparency and beautiful drape and is made of silk.
While weaving a small part of spandex or elastic components are used to make it a bit stretchy.
The silk georgette is blended with satin to bring the shiny appearance of satin to the fabric.
The Fabric which is woven on a jacquard loom with a jacquard design is what jacquard is, this brings more strength to the fabric.
The faux georgette made of polyester is what poly georgette is.
FABRIC CARE GUIDE.
It is the fabric that is delicate enough to be washed by either hand or get dry clean, don't wash your garments in a machine. 
You should use mild detergent and wash them in cold water

Soak the clothing apparel in the cold water of mild detergent and sit it aside after stirring so the detergent gets evenly distributed on the fabric.

Squeeze extra water and detergent and rinse

To avoid ruining your fabric do not wring it.

To dry lay them flat and avoid direct sunlight.