Fashion
Life Style
Lifestyle
How To Choose Different Types Of Bags For Men?
Get the perfect men's selection with an extensive range of bags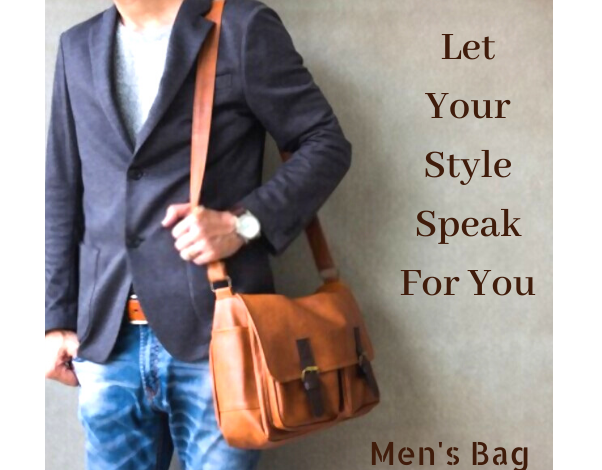 A man's fashion choices such as handbags have become equally important to a
woman's fashion choice. But no look is complete without a good bag.
It is a practical decision to invest in good bags for men. But, also, it is a smart move
because you can fit your entire world in it and admittedly look more sophisticated.
Bags have been an important accessory for men. Of course, you always have a bag
with you everywhere you go. But, have you ever given it a thought about whether you
are using the right bag?
Maybe that backpack is so convenient that you don't realize it is the wrong bag for that
particular occasion? A specific bag is appropriate for that particular setting, and you need
to know the changes in settings.
Here is the list of the bags for men to go through if you are unsure about the right bag.
Types Of Designer Bags For Men
● Satchel Bag
➔ A foldable flap at the top and a single strap wore across the body is our first type
of designer bag.
➔ That is how you would identify a satchel bag from the plethora of bags you
stumble upon. It is much better than a knapsack and a bit more casual than a
messenger bag.
➔ We think satchel designer bags for men could be your go-to choice when the
dress code for the evening is kept too casual or when you are a student who is
always on the run.
● Messenger Bags for men
➔ These designer bags are commonly known as courier bags because of their
looks.
➔ Messenger bags took a long time to climb the fashion ladder but finally made it to
the list of best bags for men in 2020.
➔ Well, they are not only highly functional but also very stylish and urban. You can
fit your wallet, phone, paperwork, and otherworldly items in it and still look
tasteful.
➔ Usually, messenger bags are worn over one shoulder, and they can be an
essential accessory when going for something laid back and casual.
➔ These bags would make an inevitable fashion statement with a printed or plain
button-down shirt, boots, and chinos.
● Duffle Bag
➔ Do you have weekend getaways? Put all your underthings in the duffle bag.
➔ Do sports meet at the gym? Then, you can assemble all your essentials in the
duffle bag and get moving.
➔ Have a business trip? You can put your things neatly together and arrange them
in the leather duffle bag. It is one of the ideal designer bags for men.
➔ Be it gym, sports, traveling, or luggage, duffle bags are a blessing to the men.
Firstly, these designer bags for men suit your every carnal need.
➔ Secondly, it is a pretty helpful, practical, and intelligent investment. Finally, they
are stylish, sleek, and available in different sizes and materials.
➔ It means you never have to depend on anything unattractive to carry your stuff.
● Laptop Bag
➔ In the past, it all started with protecting one of the most expensive gadgets you
own, of course, your laptop, but now it has become more than that.
➔ Laptop bags are considered one of the most trendsetting bags a man should own
and not because of their utility, but because of their style and class.
➔ Leave your home with a sleek laptop bag dressed up as formally as you can and
watch your colleagues jealous of you at least twice.
➔ Moreover, these bags come in various styles, sizes, patterns, and colors, thus a
wide array of options for you to choose from.
➔ We suggest you buy a durable, subtle leather piece which you can carry daily to
your office or make an excellent first impression with it on an important business
trip.
● Backpacks
➔ Men need a good backpack to carry the world on their two sturdy but gentle
shoulders. You would not believe that backpacks have traveled through time
along with you.
➔ They, too, have grown into versatile young choices. Be it casual college-going
bags or sophisticated business commuter packs, depending upon the material
and purpose.
➔ These bags have evolved into an incredible variety of sizes, shapes, designs,
and ranges. As a result, backpacks have become more durable,
weather-resistant, and friendly to all your outfits if chosen wisely.
Conclusion
You will get to know the importance of designer bags for men. You can select different
types of bags for a particular occasion or event. Our short brief or discussion is helpful
for people searching for various kinds of bags for men