Foods
Buy White Pepper Powder in Wholesale from Spice Exporter
A leading Indian spice exporter - Vyom Overseas, offering premium quality white pepper powder at the best affordable and wholesale rates.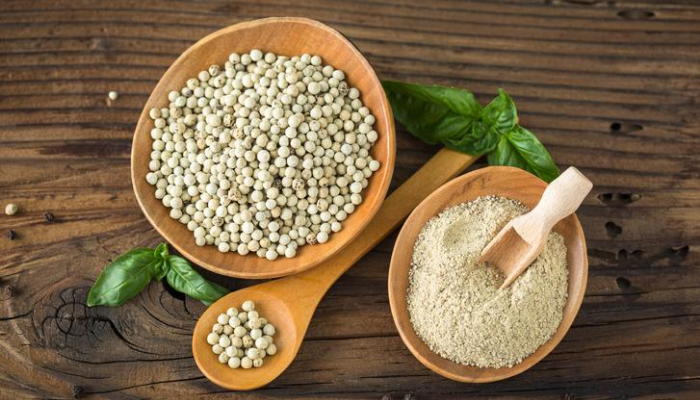 White pepper powder is a widely used spice in Chinese cuisine, but is not often used in other parts of the world. That is why most people are more familiar with black pepper but have little knowledge about its alternative – white pepper. 
White pepper and black pepper are both the same fruit cultivated from a flowering vine called Piper Nigrum. The only difference is in their preparation. The black peppercorns are cultivated when reddens and sundried with the skin on, which gives the black, wrinkly texture when dried.
On the other hand, white peppercorns are processed by removing its outer red peel, which exposes inner white seeds. White pepper and black pepper are both the same fruit, but their taste may vary slightly. White peppers are more pungent in flavour and have a more stronger taste, than its black alternative.
Vyom Overseas – Global Indian Spices Exporter
Vyom Overseas is a prominent Indian spices exporter fulfilling the global need of quality Indian whole and ground spices. We offer various types of high-quality herbs and spices, including white pepper powder.
Our selection of white peppercorns goes beyond the conventional methods. We have a team of experts who ensures the quality of our spices by picking directly from farmers or agricultural marketing yards, without any mediator or middleman.
This helps farmers get the best prices for their crop, while allowing us to sell the spices at reasonable rates, still keeping our margin. Moreover, we adhere to best grinding, storing, and packaging practices to keep the quality intact.
Read More: Must-Have Indian Spices For Healthy & Tasty Cooking

From picking to packaging – how do we get you quality white pepper powder?
Our white pepper powder making process goes through various phases before reaching your doorstep.
Buying white pepper
We have a team of experts who pick the best spices for you. To buy the best quality white pepper powder, we directly go to farmers or agricultural marketing yards. In this way, we don't have to rely on any middleman to buy white pepper or any spices.
We directly deal with farmers, without any mediator in between. This enables us to deliver you quality spices at cost-cutting rates. After buying, we grind the peppercorns to fine powder in technically advanced machines.
Grinding white pepper
Our grinding machines uses cutting-edge cryogenic technology, which grinds spics and herbs at sub-zero temparature. Normal grinding machines produce heat when it works. And spices have volatile oils, which can evaporate in high heat, which eventually spoils the taste and shelf life of white pepper powder.
On the other hand, cryogenic grinding machines grind spices at absolute zero temperature. Which means your white pepper powder does not lose its taste, flavour, aroma, and longevity, as it does not heat white going through the grinding process.
Delivering white pepper
We ensure utmost hygiene and quality assurance while packaging and delivering your white pepper powder. Our hygienic packaging practices ensure your spice stays intact in various weather conditions and changing environments from shipment to delivery.
Moreover, our fastest delivery ensures you receive your order in minimal time. Being a global white pepper powder wholesaler, we offer the fastest delivery in any corner of the world. So, you can fulfil your bulk white pepper powder need, no matter where you are.
To Sum Up
White pepper powder is usually used in white sauces and creamy soups, where you don't want the presence of those black pepper flakes. If you are associated in the hospitality business, or are a retailer who wants to buy whitepepper powder wholesale, Vyom Overseas is for you.