If you like the dark and pensive Gothic look, you've arrived at the right place.
Youth all over the world are now attracted to the dark style for a reason. Although the trend has existed for decades, many people still do not consider it new and young. Those who want to join the league of Gothic fashion often wonder where and how to begin.
If you are struggling to choose your goth trousers and matching gothic accessories, you are not alone. The trend is so dark that it is very difficult to determine the right colours and styles. To make sure you make the right choice, here is a list of all the Gothic essentials you might want to try.
5 Gothic Trends You Must Check Out
From the signature look in all-black to classic chokers, here's how anyone can perfect the Gothic look:
#1: Chokers
To wear the classic gothic look and dark style, you have to choose accessories carefully. Chokers are common accessories for goths. People wear them with either a dramatic attire or just a corset. However, be very careful before purchasing them, as chokers should provide the look you want to wear while still leaving some room to breathe.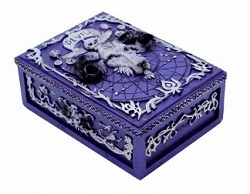 Black is the choicest colour for all kinds of gothic accessories and fashion trends. However, it is also important to consider the skin colour of an individual before buying accessories. Since a choker is all black, the person should choose embellishments complementing the outfit. Stones and cameos are the basic adornments to consider in chokers.
Chokers make the neck look longer. To maximize its effect, pick a design that matches the neckline of the dress you want to wear. For example, if you are wearing a V-neck shirt, pair it with a choker with a pointed centre. However, if you are wearing something with a scoop neck, choose a round-shaped choker.
#2: Black or Dark Outfits
Black is the most popular colour amongst goths. Those who follow this trend have a traditional pair of gothic trousers harking back to the 1970s punk scene. People who followed the music genre were rebels and dark clothing resembled them.
Of late, dark clothing remains popular with goths. However, today many people choose their dresses based on materials and accessories. For instance, some incorporate specially designed leather inserts whereas others prefer metal accessories. Some even like to explore gothic coffin bags, the afterlife, vampires, and cemeteries.  In addition, other colours are also common in these types of outfits. Feathered hats with vintage gowns are quite popular too.
Goths avoid warm and pastel colours. However, white is sometimes considered appropriate because it signifies moonlit cold light.
#3: Corsets
Gothic corsets are similar to those worn in Victorian fashion. They are available in underbust and overbust styles.
Underbust corsets slim down the waistline without enhancing the real bust. The style begins right under the bust and tends to go downwards to reach the hip.
On the contrary, overbust corsets offer more coverage, as it extends from the bust, a little over it, to the hip. This corset also enhances the chest.
Women choose corsets because they not only add to the style but also live up to the gothic culture. You can take your pick from medieval and punk fashions, which make leather, black velvet, hooks, and lace popular adornments.
Other embellishments include fishnets, zippers, religious elements, and chains. Crucifixes and crosses are also frequently used as accessories.
#4: Hairdo
The gothic hairstyle does not have any particular format. While cyber goths wear a ponytail or sometimes create an elaborate style, hippies like to wear straight and long hair.
In recent times. Gothic hairstyles mainly incorporate highlights with dye, though individuals like black hair too. Few goths prefer heavily-layered hair with thick side-swept bangs.
Even messy hair look is trending amongst goths now. Rainbow hair is also popular. Likewise, baby bangs are also popular as more and more individuals are now cutting their hair.
#5: Makeup
Gothic makeup has a goal – to create a mysterious appearance. A mix of creepy and cool looks is chic in the Goth culture.
However, goths do not apply makeup to all parts of their face. They focus on cheekbones, chin, and jawline. They also use dark eyeliner. Women either wear a subtle look or choose to be more dramatic when it comes to makeup. It also depends on the occasion.
The gothic lip colour is usually red or black. Some women like to wear a purple shade too. Finish the look with powder, but make sure not to overdo it.
Gothic Accessories
Finish the look with iconic gothic accessories such as studs and buckles. You can also wear teardrop earrings for a more classy look.