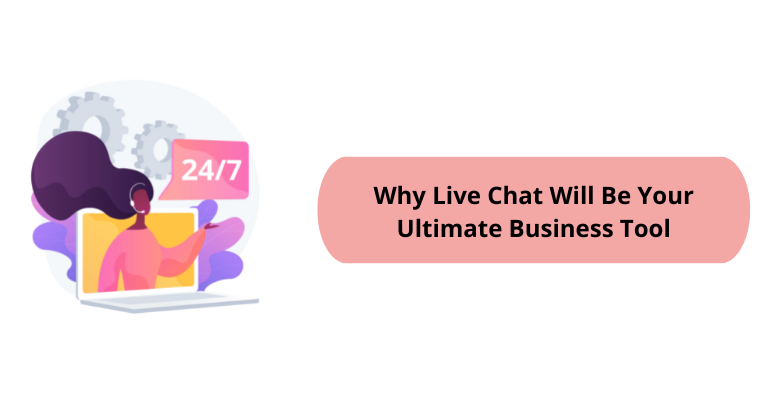 One-Size-Fits-All Approach
Customer service is the backbone of any business, and it is critical to establishing a long-term customer base and helping businesses to thrive. Implementing live chat customer service has several advantages for your company and your clients.
Online live chat is one of the most feasible and convenient alternatives applied effectively to companies, irrespective of their size. This can be incorporated into your official website without any downtime. Getting the best value for your established business is as simple as selecting an appropriate prepaid plan. You can usually have this flexible business tool in place and operational in a short period and with the least amount of fuss. There are no inconveniences to deal with, and there is no need to shut down! Live Chat: The best business tool with various quick business solutions.
Instantly Engage Your Customers
Consider that AI has yet to understand one crucial aspect of customer service: human instinct. Even the most intelligent computer program can't make you laugh, but a pleasant word from a human can. Live chat brings together the finest of technology and human interaction.
You may instantly engage in real-time communications with any clients navigating your website after installing live chat software on your website. It's not limited to charming every consumer with live chat; it's also about being available and accessible to each customer who comes to you. You only communicate with clients who decide to talk with your brand using our software. Customer service starts at the first contact and continues long after the sale, 
Our live chat is optimised to be helpful:
Customers can quickly get in touch with an agent.

The waiting time is less.

The discussion can be saved for later

Customers can get fast answers to their purchase-related queries.
See who is Visiting Your Website
Our live chat system's real-time visitor monitoring is a powerful and valuable feature. Monitoring the results will allow you to learn more about the demands of your typical clients. Don't miss out on the opportunity to strengthen your marketing approach and increase sales by utilising our live chat monitoring subsystem.
You can identify who is visiting your website. You'll know where they're logging in from and if they've been to your site before. You can actively engage your consumers with precise information, gradually removing needless queries and quickly getting to the centre of the established relationship, which is ultimately generating the sales lead.
The Most Effective Customer Service Tool
Customers can have real-time, back-and-forth interactions with support staff using live chat assistance. Customers can send inquiries to a person who can immediately respond to them in the same window using the live chat software placed on the company's website.
Customer service is instantaneous with live chat. You get to interact directly with customers, whether they're looking for help or need to buy a product. You're available whenever they need you. Customers expect firms to fulfil their desire for convenient, unlimited access as technology advances.
With live chat, you have a live customer care team available 24 hours a day, 7 days a week, to represent your business and engage your customers anytime they want. You can swiftly and efficiently engage people on your website by building on your FAQ list. You need never let another opportunity pass you by.
Tool for generating leads
A full cycle of communication with live chat is a better strategy to lead customers down the sales funnel than a series of promotional emails or other interactions. Live chat connects several touchpoints and allows for a continuous exchange of information.
When potential buyers interact with your company via live chat software, they are usually given basic questions. These can include information such as a person's name and contact information. You have control over how you acquire this information and use it. It's not just a cold call; They are usually anticipating the contact. The primary and most crucial step in addressing a potential new customer has already been completed.
Get instant customer feedback
The single most crucial aspect of your marketing approach is customer feedback. Here, the customer can tell the company how they felt about the interaction when it is fresh in their minds. Each connection with a customer can be a teaching opportunity for a marketing team to learn about its weaknesses and future steps.
To sum it up
High-quality service goes beyond delivering accurate information. Recognising a customer's goals and assisting them in achieving them is also customer service. Live chat support speeds up this process by allowing for a more natural conversation. A knowledgeable support agent can ask the right questions and rapidly take a customer to where they need to go.
With the correct live chat support software, it is easy to combine real-time chat assistance with self-service alternatives and an email contact point, providing various support experiences based on the customer's choices and the support team's skills.
Businesses are constantly looking to cut costs; low-cost customer service solutions are a factor here. One of the front runners in the race is undoubtedly live chat. For many years, phone and email have been the cornerstones of customer service. However, keeping up with these communication modes takes time and resources, and they come with several drawbacks, such as long wait times and back-and-forths.
On the other hand, live chat solutions are pretty inexpensive to establish, and they come packed with additional features that make them a superior communication channel. Customers value convenience and expect brands to be as accommodating as possible. It's the ideal moment to strengthen your livechat customer service to increase client engagement and response rates.