Business
The Ultimate Guide about eCommerce Platform for Your Business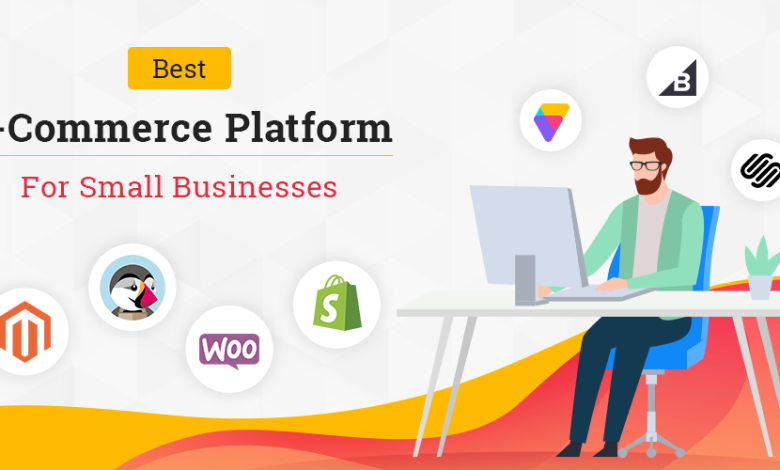 Many eCommerce platforms are available, and it can be challenging to decide which one is the best for your business. Considerations like cost, features, and security are essential when choosing a platform.
This guide has a detailed analysis of each factor to make an informed decision on what would work best for your business.
However, it is a comprehensive guide that will help you choose the right eCommerce platform for small businesses. Lets' scroll down.
What is an eCommerce Platform?
An eCommerce platform is a software that helps to manage the online store. It has several shopping carts, inventory management, and order management features.
A company or an individual can operate an eCommerce platform. It is also available for both small and large businesses. The significant difference between these platforms is the company-operated platform provides more features and services for larger businesses.
Companies like Amazon have been using eCommerce platforms for years to help them grow their business. They have even developed their software called Amazon Web Services (AWS), which provides businesses with cloud computing services, storage, databases, and more.
Most Popular Ecommerce Platforms in the Market
Ecommerce platforms are the most popular ways for consumers to buy goods and services online. They are a great way for businesses to reach out to new customers and generate revenue.
Best eCommerce Platforms for small businesses are:
Shopify
This is a popular eCommerce platform for small businesses. It can be used to sell products on your website, and it has a wide range of features for usage ease.
The Shopify platform can be used by anyone with a web-based store, including start-ups and established companies. It helps you create an online store and manage your inventory, marketing, customer service, payments, and more.
It is simple to set up a Shopify store with the help of their step-by-step guide that takes you through the process in less than an hour.
Wix
Wix is a popular website builder which allows users to build their websites and sell products online. It has an eCommerce platform that provides all the tools needed for small businesses to sell their products online.
This is designed to provide a smooth user experience for shoppers and sellers alike. The platform offers product tagging, customizable checkout pages, and conversion tracking tools.
It also includes analytics for business owners who want to track how their sales are performing on the site. Wix can be used by businesses of all sizes, from individual entrepreneurs to large corporations with multiple stores.
Big Commerce
eCommerce platforms help small businesses to establish their online presence. Big Commerce is one of the most popular eCommerce platforms for small businesses with various tools and features.
Big Commerce offers a wide range of tools that help small businesses to succeed in their online endeavors. They offer marketing automation strategies, social media marketing and SEO tools, and payment solutions.
A comprehensive knowledge base is also available on the platform, which helps users learn how to use the platform's features. Big Commerce has been on the market since 2001 and is one of the most trusted eCommerce platforms for small businesses with over 1 million active merchants worldwide.
Squarespace
Squarespace is an eCommerce platform for small businesses. The platform offers a variety of tools that help in the process of selling online, like website building, payment processing, and marketing.
It has also been recognized as an enterprise-level platform for companies with a higher budget. With Squarespace, you can create your website in minutes, build a blog or online store, or even sell online.
Selz
Selz is one of the best eCommerce platforms. It provides a powerful search engine that allows users to find products and services relevant to their needs. This platform also has a section where users can create their content and sell it on Selz.
Selz helps small businesses find potential customers, build a brand and grow their businesses. It offers pre-built e-commerce templates and a marketplace where small businesses can find the best products and services. There are also features that help with marketing, like SEO and social media management.
Magento
Magento is a leading eCommerce platform that has been in the market since 2004. Small businesses can use it to run their online stores.
It allows users to easily manage their inventory, marketing campaigns, and customer service. The software also provides them with a wide range of tools that are not available on other platforms.
Which Ecommerce Platform is Suitable for Which Business Type?
Ecommerce platforms are an integral part of the online retail industry. It is essential to know which platform is best for your business type with different eCommerce platforms for other businesses.
Best Ecommerce Platforms:
Amazon – Retailers and Manufacturers
Walmart – Retailers, Manufacturers, and Wholesalers
Etsy – Retailers and Wholesalers
Nordstrom – Retailers
In short, eCommerce platforms are the digital storefronts that help businesses sell their products. Different types of eCommerce platforms can be used depending on the type of business. So, pick up the one that suits your needs.