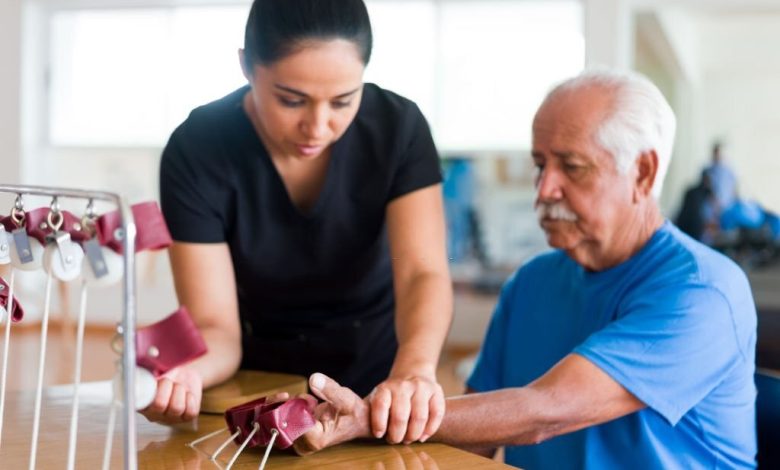 What is Occupational Therapy?
Occupational therapy (OT) uses evaluations and interventions to help people with disabilities, impairments, or injuries gain, recover, or maintain activities of daily living (ADLs) that are personally meaningful to them. 
Simple tasks can be extremely difficult for people who have suffered from injuries or strokes. Here is where an occupational therapist steps in and helps the patient with activities of daily living. 
Occupational therapists help individuals overcome the effects of decreased function caused by accidents, illness, or aging in order to enable them to perform everyday activities. An occupational therapist, for example, teaches compensatory techniques to stroke patients, educates them about their condition and how to improve it, and also recommends the best medical equipment for rent to enable a faster and more effective recovery. 
Who Needs Occupational Therapy?
People of all ages, from newborns to the elderly, may require occupational therapy. Occupational therapy can help these people in a variety of ways, including: 
Adults suffering from depression may require therapist recommendations to gradually re-engage in daily activities to maximize their chances of success.

 

Children with physical disabilities may require the assistance of a therapist in order to develop the coordination required to feed themselves, use a computer, or improve their handwriting.

 

If a person's grip has been compromised as a result of an injury. A therapist may be able to help them regain grip strength and modify movements to enable them to feed themselves.

 

Those who have had a spinal cord injury may require the assistance of a therapist to avoid movements or behaviors that could aggravate their injuries.

 

Seniors with physical limitations may require the assistance of a therapist in order to participate in activities they enjoy.

 

When a person has sustained a traumatic brain injury and lost cognitive function. A therapist may be required to assist them with job or college applications.

 

Therapists may modify an ergonomically designed work environment to reduce stress and maximize health. Corporate professionals may work with a therapist to create an optimal work/life balance.
The Scope of Work of an Occupational Therapist (OT)
When a patient has a broken arm or hand, an OT will guide him through specific exercises. Joint protection measures to help him regain the use of his arm under the supervision of a physician.

 

An occupational therapist may work in home care settings. Teaching patients and caregivers safer methods of performing tasks requiring minimal physical exertion on the patient and the caregiver. To help the patient's mobility during their daily routine, the therapist may recommend a

wheelchair for rent

with specific measurements. An OT may recommend and modify specific

medical equipment for rent

, such as an elevated toilet or bath bench, to enable a hip patient to safely attend to toileting and bathing without jeopardizing a hip surgery site, allowing for maximum recovery.

 

An OT may work in a school setting to assist children with disabilities in learning more effectively. Educating teachers on how to teach a child with specific impairments. The environment is modified for the child or patient in OT, not the other way around.

 

An occupational therapist may teach a mother or grandmother who has had an injury or recent disability to simply care for or even hug her children without causing additional pain or injury to herself. 

 

An occupational therapist may teach a paraplegic or quadriplegic how to have sexual relations with his partner using modified techniques, which is a gentle, careful, and ethical intervention.

 

Mental health occupational therapists may work in a hospital with veterans. Engaging them in crafts such as leatherwork or copper tooling. As well as holding small group sessions to allow the veterans to express emotions related to their PTSD experiences.

 
In short, occupational therapists seek to assist patients in returning to their important tasks. Including recommendations for work environment adaptations to allow patients to resume their job or occupation successfully. Specific medical equipment for rent may be recommended to enable paraplegics or quadriplegics to return to work or further their education. 
The role of an occupational therapist can be challenging, exhausting, holistic, and delectably rewarding. When patients are discharged to pursue their interests once again after therapy.