Tech
The OST File has Reached the Maximum Size Error – Advanced Way
OST File has Reached the Maximum Size Error
Overview: This blog will help you fix the Error "OST file has reached the maximum size" using multiple ways. Here, we have discussed the manual as well as the automated solution with a step-by-step guide to fix the issue.
OST or Offline Storage Table is a copy of the user Mailbox on the Exchange server such as Microsoft accounts, IMAP accounts, Exchange accounts, and Outlook accounts. It stores the synchronized copy of your mailbox information on your local computer. When your connection to the mail server is interrupted, you can still access all emails, contacts, calendar data, and all the tasks that have been previously downloaded but you cannot send or receive new messages until you got connected to the internet.
The size of the OST file is dependent on the different Outlook versions. Outlook 2003, and 2007 versions have a default size of 20 GB. And for Outlook 2002 and below versions, the default maximum size was 2 GB. And in the latest versions like Outlook 2010, 2013, 2016, 2019, and 2021, the default maximum size for OST/PST file is 50 GB.  
Reasons Why OST File has Reached Maximum Size
When you receive lots of emails a day with larger attachments, it can result in size limit issues. When the size of OST increases and reaches its peak or file size limit configured on the system, then the error OST file has reached the maximum size may occur.

This error may also occur when the OST file size reaches the configured mailbox size limit on the Outlook Server. In such cases, you stop receiving new emails and face several other issues until you resolve the Outlook data file that has reached the maximum size error.
How to Resolve OST File has Reached the Maximum Size Error?
To resolve this issue we have multiple ways to manage the size limit. You can solve this issue by increasing the mailbox size. This may probably fix the error. And it may appear soon when OST reaches the new threshold limit.
If you control the OST file size, then there is no need to increase the mailbox size limit. Here we have discussed the various methods that will help you resolve the Outlook data file that has reached the maximum size issue. 
Method 1-
 By Compacting OST File to Reduce Size
You can compact the size of OST and PST files in Outlook. The steps are as follows:
Step 1. Go to the file menu> Account settings> Account settings.
Step 2. Click on the Data Files tab and select the desired OST file you want to compact.
Step 3. Now click Settings> Advanced>Outlook Data File Settings.
Step 4. Click Compact now and click Ok
This process may help you resolve this error temporarily.
Method 2-
By cleaning up Mailbox
To fix this issue for a long time, you can clean up your mailbox which can help you reduce the OST file size. You can delete all the older emails which are no longer needed. The steps are as given below:
1. Click on File>Account Information and click on Cleanup Tools beside Mailbox Cleanup.
2. Click on the Mailbox Cleanup Option
3. You can view your current mailbox size on the server by clicking on the 'View Mailbox Size' button.
4. You can enter a number of days to find out older emails and delete them to reduce the size of OST file and mailbox.
5. You can also select larger items and manage them. You can look at large emails and remove attachments to reduce the OST file size.
Method 3- Move mail items to the Archive folder
Instead of deleting old emails, you can move them to a PST folder file. It will help in reducing the OST file size and also delete after some time. The steps are as given below: 
In Outlook go to File> Account Info>Tools>Clean up old items

Select the folder and subfolders option to Archive.

Select a folder from the list of folders to archive

Then choose the Archive items older by date 

Click on Browse to choose a destination location and click on OK



You can also create another folder in Outlook and move all emails with large file items and archive the folder. This will help you reduce OST file size. You can move more items to this folder or you can create multiple folders to keep control of the OST file size.
If you don't want to perform these manual methods then we have another solution for you. You can try our advanced tool to reduce the OST file size. Using this tool you can split oversized OST files into multiple parts. Below we have discussed the automated solution in detail.
Advanced Solution
We have an Advanced OST Splitter Software using which we can easily split oversized OST files into multiple parts by date, size, year, Folder, Email Id, and category. Also, provide the option to repair OST corrupted files before splitting. It also provides to break OST file items like emails, contacts, etc.
Here we have provided the step-by-step guide to fix the error Outlook data file has reached the maximum size issue. 
Step 1. Go to the Start menu, and open the software.
Step 2. Add OST Files/ Folders and browse the destination path to save resultant OST File.
Step 3. On the Next menu select desired Split Option according to OST files size, Date, Year, Email Id, and Category.
Step 4. Choose the split option as split by size and provide the required size to split OST file in a desired way. You can choose any size from 1 MB to 1 TB.
Step 5. On this window, the summary of split information showing details of the whole process will be displayed. Click on next to proceed further.
Step 6. Now the software will start the process to split the OST files.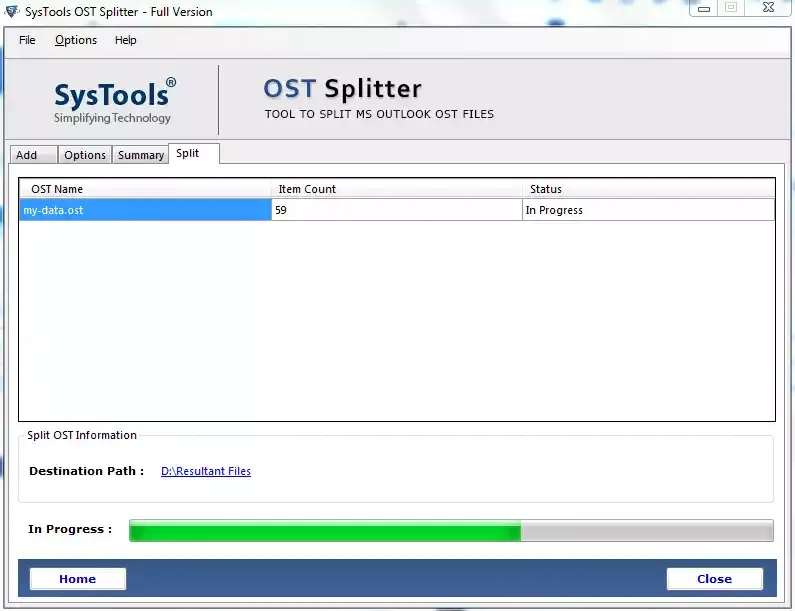 Step 7. Once the process is completed, Click on 'OK' button to confirm.
Step 8. Now you can view your resultant file by clicking on the destination path.
Also Read More How To Fix QuickBooks Script Error?
Conclusion
In this blog we have discussed on OST file reached the maximum size error. If this error persists, the users can't access their Outlook email account and restrict communication. If their mailbox size gets full then they will no longer send or receive emails further. So, to solve this issue we have discussed various methods in this blog. First, we have discussed a few manual methods to fix this issue. And another method we have discussed is the OST splitter software to split the oversized OST file.