Fashion
How to Style Like an Italian Woman? 
If you have always looked upon Italian women as the style icons and if you wish to acquire the same glam quotient, you are at the right place. Fashion is something where no one can compete with Italian women. Explore Italian fashion online, and you would find that Italian ladies look well-dressed and stylish all the time.
We are presenting a few tips on how to style like an Italian woman and effortlessly look glamorous.
If you want to try the traditional Italian styles, you can update your wardrobe with chic statement making outfits. We are presenting the top ways for adopting Italian glitz, so keep reading for our recommendations.
Invest in Basics
When we talk about the fundamentals of your Italian wardrobe, we are talking about the basic clothing pieces like tops, trousers, skirts and shirts. When you buy Italian clothing online, ensure that you get them in high quality fabrics like silk, linen, cashmere and cotton. Material quality makes a huge impact, you'll find yourself wearing them more frequently.
Limit the use of Colour
You would never see Italian women in outfits with multi hues. They prefer monochrome clothing or at times two toned. Their chosen colour palette includes beige, white, cream, pink, red and black. Black and white are timeless colours and you must have them in your closet.
Mostly you will find them wearing neutral hues and accessorising their looks to add a pop of colour. Italian women like to keep things effortless when styling.
Are you looking for women's tunic tops? Explore Belle Love's exclusive Italian clothing collection. They offer chic styles to complement your personality for every occasion.
Coats & Jackets
A stylish, long coat is a must have for the winter season to keep you warm and cosy. Coats and jackets are ideal for layering. Your coat can have a faux fur collar to add to your style quotient. One can go with a beige or black long coat as they can effortlessly complement outfits in any colour.
Jumpsuits & Playsuits
A classic jumpsuit is a summer wardrobe must-have in Italy. This stylish garment is easy to style and can make you look stunning. A chic range of jumpsuits and playsuits are available online. One can select from a wide range of quirky prints, breathable fabrics and vibrant colours. Floral print, polka dots, animal print and stripes are a few of the trending prints for this season.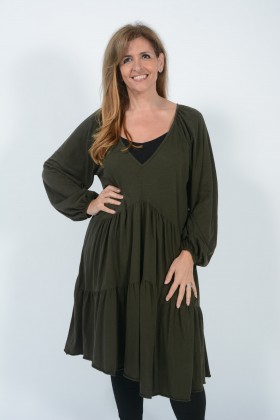 Heels are Essential
To complete your look, team your outfit with a pair of high heels that matches it. Invest in a pair of black stilettos, they go with most of the colours. Stilettos are the best choice for skirts, trousers, dresses and jumpsuits.
Are you looking for plus size tunic tops online? Discover stylish tops at Belle Love.
Designer Handbags
A designer bag can completely change the look of an outfit. You can invest in a classy black handbag, it can help you to accessorise any outfit. Or you can carry a matching luxury handbag as per the colour of your outfit. Remember a tip that a branded handbag can accentuate the look manifold. One can opt for Gucci, Prada, Chanel, Louis Vuitton or any other brand of your liking. Classic bags, clutches and totes are a few popular choices.
Hopefully, our fashion tips have given you some ideas for styling Italian clothing! Here's a brief rundown of our dressing advice. Look for statement making quality outfits. Use colour palettes that are neutral or black and white. Take proper care of your garments and they will last a long time! Don't be afraid to spend extra on higher-quality items. Take your time to find the outfits that fit you properly and complement your personality.