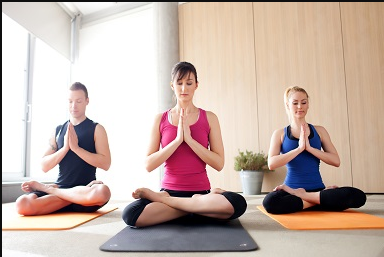 Thinking about joining a yoga fitness center? Can't make up your mind which one to choose? If you are baffled by all such questions, this article is for you. It covers all the essential qualities of one of the best yoga fitness centers.
So, have a look at all the things you should be aware of before enrolling in a yoga fitness center. Doing so ensures you don't join the wrong fitness center. Hence, it is going to save you money and time. Without delaying any further, let's get into it. Read on.
Things to Look For in Yoga Fitness Center
Yoga Certification
When you think about joining a yoga fitness center, make sure you know about its certification. In the yoga world, every yoga practitioner is aware of the importance of the Yoga Alliance certification. Hence, your first and only preference should be joining a center registered with the Yoga Alliance.
This helps you earn a Yoga Alliance certification after the completion of your yoga course. So, the first step ensures you have a successful yoga journey ahead that begins with choosing the right yoga fitness center.
Peaceful Location
Once you are aware of which yoga certification to go with, next comes the most crucial point. It deals with the location or the environment of the chosen yoga fitness center. Whether you are a beginner or an experienced person, always go to a peaceful and serene location.
You could be thinking why not choose a tourist location? Well, the tourist location will be noisy and packed with people. Will be able to concentrate on your yoga practice amid all the chaos? That is why always choose a silent and peaceful yoga destination.
Certified Faculty
The faculty at the chosen yoga fitness center is going to play a major role in your journey. Therefore, you should ensure that the learned faculty is certified with the Yoga Alliance. Training yoga under the certified faculty ensures you are in safer hands.
Moreover, certified yoga teachers are trained to teach yoga to learners. Hence, you can rest assured about learning yoga from trained professionals. This helps you stay away from injuries and other compromising situations.
Diverse Yoga Forms
Are you satisfied with a single yoga form? Don't you want to experiment with different yoga forms? If yes, you should be aware of the availability of different yoga forms at a certified yoga fitness center. This helps you choose from diverse yoga forms available at your disposal.
Having options also help you choose the one that interests you. So, if you choose a yoga fitness center that does have many options, it won't benefit you in the long run. Hence, you should always check the availability of different forms of yoga available for practice.
Yoga Material Availability
Yoga material includes yoga mats, blocks, books, and other manuscripts. Therefore, as a beginner, you should be aware of how to use different yoga props for better yoga practice. That is why you should always choose a yoga fitness center that has plenty of yoga material.
Moreover, learning new things about yoga are equally important. Hence, you should also make sure that the chosen yoga school has yoga books and manuscripts. This is sufficient to keep you invested in learning yoga every day.
Affordable
Is the chosen yoga school affordable? Or, do you have to empty your pockets to join for a few days? Hence, one of the most important points you should keep in mind is its affordability. If it is not affordable, don't consider joining the center.
Your first aim should be learning the art of yoga and the yogic lifestyle. For that, there are numerous cheap and even free yoga centers. However, in them, you have to offer your services in exchange for your stay and food. So, you should look for cheaper options available at your disposal rather than joining an expensive yoga fitness center.
Sum Up
The yoga fitness center has an important role in every yoga practitioner's life. Therefore, you must have a deep insight into it before enrolling in it. Moreover, it should comply with your goals. Whether you want to practice yoga for back pain or mental power, the chosen yoga center offers it all. Choosing the right center is going to help you have the best results in the least possible time.