Tech
How to Change Password from Word VBA File without Losing Macros?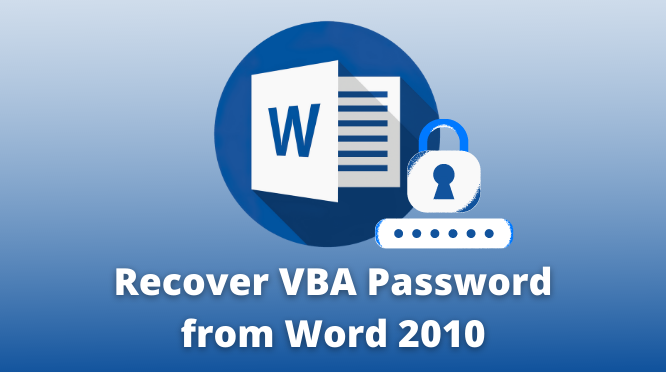 Are you too seeking a way to unlock Microsoft Word documents' passwords? If so, your quest is over since we'll cover a variety of techniques to change passwords from the word VBA file. We'll discuss both manual and automatic ways to get rid of the VBA password.
One of the greatest and most widely used office products in use today is Microsoft Word. Written documents are created, edited, and formatted using them in the office, in the classroom, and at home.
Examples include cover letters, resumes, informal or formal business letters, etc. Given how often MS Word is used at work, it has a high degree of expertise that may open up career prospects. Here are a few further justifications to change the password from the word VBA file. So let's take a quick look.
What the Reasons are for Recover Word VBA Project Password?
Users look for this problem for a variety of reasons. Here is a list of a few of them:
The user may often forget their previous password. Therefore, the user must delete the previous VBA project file in order to reuse it.
Most often, programmers obtain VBA project examples that are password-protected. They want to eliminate passwords since they can't access the specified VBA macros and modules if they have them.
Users occasionally want to copy a VBA project into a Word document, but the password prevents them from doing so. It'll request a password.
Most projects that users obtain from professional resources are password-protected. Therefore, the user needs the password in order to access the example VBA project file. If it is not, the user will be unable to access it.
User Query;
"Hello! David here. One of my clients gave me a Word VBA project, and now I can't get in touch with him. This document is password-protected. I need to change password from word VBA file in order to operate it. I looked for some software online, but I couldn't locate anything that was right.

Does anybody know the best way to change the Word password VBA code? If so, please get me out of my predicament right now. I appreciate it."
There are several people looking for a solution to the same problem as the individual above. So let's talk about the answer right now.
Note: The user has two options for completing this activity. Here, we've covered both approaches.
Method 1: Using Manual Approach to Change Word VBA Project Password
First, the user must launch a brand-new Microsoft Word document on their computer.
Next, choose Visual Basic from the Developer menu, or you may alternatively press Alt + F11.
Next, choose the Module choice from the selection list by clicking the Insert button.
Write the VBA code provided in the Module Window. To continue, hit F5 at that point.
The user must now browse the Word VBA file, which includes the macros and modules. Select "Open"
The word password VBA code removal process will take some time. The password to the major Word VBA project will be shown as soon as it is complete.
Users may quickly access Word VBA projects by entering this password and clicking the Ok button to close the password popup box.
After that, click the File button, then Info, and finally, Encrypt with Password. The user must now remove the password from the dialogue box.
Users may now access Word VBA projects without a password with ease.
Limitation of Manual Methods
The use of a manual solution has several drawbacks. Check out a few of them:
This job takes a lot of time. When doing this activity, the user will need to exercise a lot of patience.
Not all users, particularly non-technical users, should utilise this manual solution.
The process for cracking VBA passwords is technical.
The concern about losing essential data is the most significant factor. When utilising this method to change password from word VBA file, the user runs the risk of losing vital data.
So it is recommended to steer clear of the manual method. Otherwise, the user will be subject to the aforementioned restrictions.
Method 2: Change Password from Word VBA File by Using Automatic Method
It would be ideal if we use a technological solution since we can see that employing the manual approach is not safe. You may change password from word VBA file using the 4n6 VBA Password Remover Software, which is a 100% safe and secure method. With the help of this wonderful program, you may delete the previous password for the VBA file and then generate a new one.
Both technical and non-technical persons may utilise it with ease. therefore it is not necessary to become technical. Passwords may be easily removed from Microsoft Word VBA projects with this program. Finally, it is available for download and installation on all current versions of Windows.
Note: If you want to know more about how to Remove Password from Word VBA Project click on the link
How to Use this Word VBA Password Changer Software?
Download the Word VBA Password Changer Software and then install it.
After that, click on the open button and then select the word file option and upload the files
Thereafter hit the Action button and then select the Change password option
Select the preferred location path and then hit the save button
Conclusion
Complete instructions to change password from word VBA file were provided in the previous article. Several users are often constrained by manual solutions, which have many drawbacks. We have provided our users with both manual and non-manual solutions here. However, as already noted, customers should use a professional solution if they want hassle-free work.
Users who want to learn more about this procedure may utilise the free demo version of this program. The customer may simply buy the software's pro version if they are satisfied.
Read Also: Tips for Web Design and Development in 2022