Business
Health and Fitness
Services
Cleaning and disinfection of schools
Cleaning schools is an activity professional must carry that out. There are collective spaces that are sensitive to contagion. Health problem in a school always creates social alarm.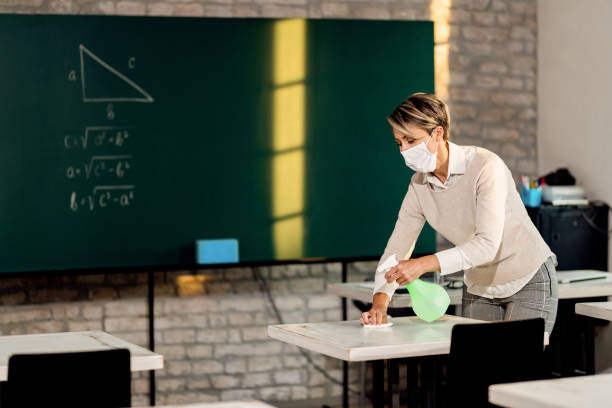 Cleaning schools is an activity professionals must carry out. There are collective spaces that are sensitive to contagion. Health problems in a school always create social alarm among parents and teachers.
The health crisis is still going on and the risk of getting sick from Covid-19 is still there. Therefore, the cleaning and disinfection of educational centers are so essential, to avoid as many infections as possible. For this reason,  We bring you a series of tips to consider when taking charge of cleaning. 
HOW TO ACHIEVE A TOTAL DISINFECTION OF SCHOOLS
What areas should we focus on ensuring the disinfection and cleaning of schools? For the return to school, special emphasis should be placed on the surfaces with the most contact with teachers and students, disinfecting them at least once a day, it is highly recommended to carry out disinfection after each use. These areas are, for example:  
Classrooms: We thoroughly disinfect any high-use surface, such as chairs, tables, switches, computers, tablets, doors, hangers, remote controls, blackboards, etc. Even though the guidelines described in the official documentation expressly show the recommendation that students do not share the material.

Bathrooms: Washbasins, showers, taps, a flush button for cisterns, dryers, lockers, etc. The established protocols show the disinfection of these areas with solutions with a higher concentration of disinfectant, as they are areas of special risk of contagion.

Common areas: These areas of the high frequency of passage of students and teachers deserve preferential attention, which is why it is crucial to clean and disinfect gym machines, railings, protection barriers, swings, counters, toys, swimming pool, etc. sports equipment, etc.

Dining rooms and kitchen: These areas always enjoy special dedication in our cleaning services in educational centers; however, because of Covid-19, they still gain greater prominence with disinfection, following the protocols of dispensers, and surfaces in contact with food, counters, self-service, kitchen utensils.
BENEFITS OF SCHOOL CLEANING
Fewer diseases and infections. Sanitize and disinfect surfaces, ventilate classrooms and manage waste. We also remove dirt, viruses, and bacteria. In addition, we reduce the risk of contagion. Thus, in a time of pandemics like the current one, it is key to the health of the little ones and their families.

More productivity. We rarely talk about this, but it is another great benefit of cleaning schools. By maintaining a clean and orderly classroom, we enhance the work environment and we eliminate distractions, thus improving the performance of both teachers and students. 

In

 

the 

library,

 

office,

 

or

 

at

 

home

, 

we 

can

 

take

 

advantage

 

of

 

this

 

feature

 

wherever

 

we

 

are

.

Best image. In our organization, school, or company, we speak about our philosophy and way of working countless times. If it is clean and in order, it will transmit positive values ​​to our clients: dedication, concern, and attention to detail. But if instead, it is dirty, is related to neglect, lack of commitment, and disorganization. Do we want families and students to take this impression of our center? Then sanitation and disinfection will have to be implemented.

We are not only professionals specialized in cleaning. We also have extensive experience. If you still do not have trusted professionals, count on us to get your educational center ready for the start of classes.