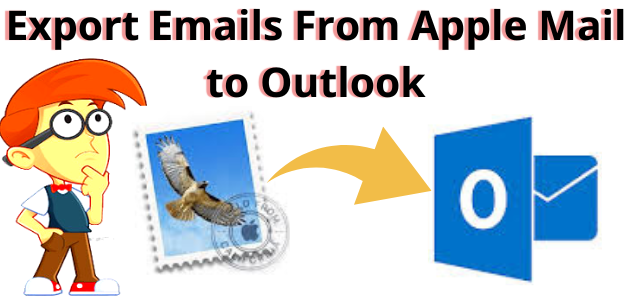 Articleft | This article will guide you to export emails from Apple Mail to Outlook without losing any single piece of your data. Here, you get different solutions that help you to do this process in an easy & simple manner.
So, let us begin with a quick introduction to both email clients and take a quick look at the reasons to perform this migration.
Apple Mail is a default email client that comes pre-configured with every Mac OS X 10 and later machine. As it is an eminent emailing service offered by Apple that allows users to send/receive emails over the Internet, manage contacts, set reminders, and schedule meetings.
Outlook For Mac is another amazing personal information manager designed by Microsoft which can be used as an email application, contact manager, task manager, and so much more. It is also designed for almost all types of OS X including Windows OS X.
Reasons Behind Transfer Emails From Apple Mail to Outlook
There are many reasons why users need to move their Mac Mail to Outlook. Some of them are listed below in steps:-
There are no new features included in Apple Mail in the past years while other email clients like Outlook are loaded with so many handy features which make email management easier for the end-users.
As Microsoft Outlook is easy to use, has an attractive GUI, and provides high-level security.
Therefore, Mac Mail does not provide an option to forward emails and it makes it difficult for users to work with it.
It is not so good for archiving Inbox emails due to which sometimes the archived emails appear in the inbox folder.
Because of all these eminent reasons for Microsoft Outlook, users are including more towards it by searching the queries like how to export emails from Apple Mail to Outlook.
Users Query!
"Hey, I was given an Apple Mail file that I need to open on my Outlook. Unfortunately, Mac mail does not support Mac Mail. For this reason, I have to convert the file format to save it in a compatible format so that it will be open. Therefore, is there any method available that helps me to export emails from Apple Mail to Outlook? Please suggest it to me."
You can use these two methods to make your task easy & simple to import emails from Mac Mail to Outlook. Manual method and automated solution, let us move one by one:-
How to Move Emails From Apple Mail to Outlook? – Free Method
If a user is required to have four different email clients on the same Mac system. Then, the required email applications are Apple Mail, Outlook Express, Eudora, and Microsoft Outlook. After installing these mail clients, follow the below steps carefully as a single mistake can lead to all data loss.
The user needs to locate the Apple Mail MBOX files. In case the user has orphan MBOX files, directly jump to step 2.
Now, click on Next, install Eudora and rename the MBOX files with the .mbox extension. After that, copy this file to the Eudora local directory
Then, users need Outlook Express to import the messages from Eudora using its native import option
In the end, users can transfer the files from Outlook Express to Outlook with inbuilt features.
Now, below are some manual limitations to exporting emails from Apple Mail to Outlook. Let's start the same!
Drawbacks of the Manual Method
Required Technical Expertise: To perform the manual task seamlessly, a user should have technical knowledge of all associated email clients.
Successful Result Not Assured: It is not preferred for bulk file conversion since the results are not guaranteed for the user's data.
Difficult to Execute: Error or mistake on the user's end can result in severe data loss.
Lengthy Process: Overall Process is lengthy and time-consuming for novice users.
Important Note: "Manual Method does not support multiple conversions to process the task and takes a lot of time to process. But, no need to worry, you can easily use our expert's recommended automated solution which is completely risk-free and saves user time & effort. Now, below we will discuss the same."
Automated Solution to Transfer Multiple Apple Mail Emails to Outlook
As above, the manual method cannot work for a multiple conversion, complex, and time taking process. Therefore Apple Mail exports the mailbox file in MBOX format. So to access them in Outlook, there is a requirement of Convert MBOX to Outlook PST Format Software. It also allows a quick & secure conversion to PST file format.
This tool provides a safe conversion by preventing the loss of attributes during the entire process. No matter if you want to transfer emails from Mac to Windows and then perform the conversion.
It will simply go for it on the Mac platform itself. And, it is suitable for everything, users can easily perform the task using this automated software without facing any trouble. Both technical & non-technical users can use this tool risk-free for batch export emails from Apple Mail to Outlook easily.
Moreover, this is a complete & reliable solution for exporting Mac Mail emails into Outlook using the software. We just suggest you use our automated software for easy & quick conversion. Now, let us move towards its working steps as followed below in easy steps:-
Working Process Explained of the Tool
Using the below-working steps you are able to export multiple emails from Apple Mail to Outlook in a simple & easy manner. Let's start the process!
Launch and run the software on your Windows system & click on "Add File".
Now, import the MBOX file(s) you want to convert
After that, you view a free Preview of MBOX emails
Finally, select "PST" and click on the "Export" button.
Frequently Asked Questions
Q 1. Can I Transfer and Convert my Mac Emails to Windows?
Yes, irrespective of the Outlook version and the Operating system, you can convert your Apple Mail email messages to Outlook on Windows.
Q 2. Is there a solution Available For Mac users?
Yes, the illustrated method is applicable to the Mac system.
Q 3. How Can I use the given methods for conversion to Outlook 2013, 2016?
Yes, you will be applicable to all MS Outlook versions including Outlook 2010, 2013, 2016, 2019, etc.
Concluding Line
Using manual & automated methods will help you to export emails from Apple Mail to Outlook. For an easy process, you can use an automated solution to move Mac mail into Outlook. This utility will support multiple conversions to its users and give a 100% guarantee to its users for saving their data. Both technical and non-technical users can easily use this tool without losing any piece of information. On the other hand, the manual method is easy but a little complex for non-technical users and cannot allow users to export multiple emails from Mac mail to Outlook. Also, there is a risk of data loss while performing the task manually. Read More in the above post!