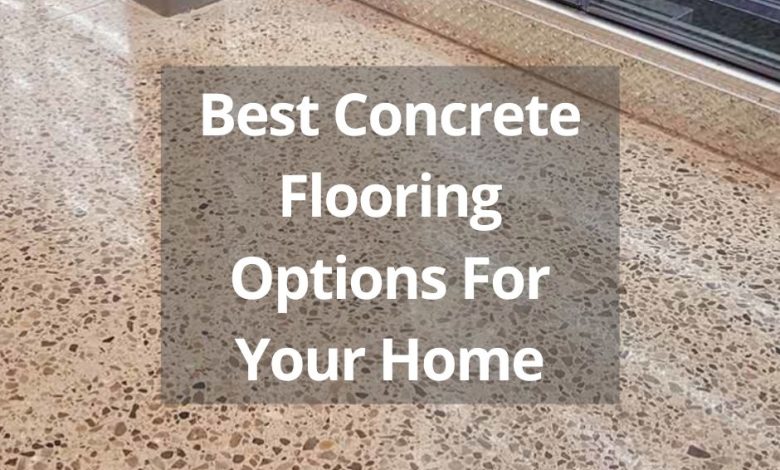 Concrete slabs have been the best flooring material for garages, basements, and storage areas of the home. Its durability makes it a main building element of any construction. In Melbourne, it has become a favorable option in almost every residential space as it can easily be modified using various colors and designs.
Additionally, the flooring is also able to achieve concrete floor finishes like wood, tile, or marble. No other flooring provides you with this endless design choices and options to customize appealing patterns.
So, if you're planning to add concrete flooring to your home, here are a variety of unique options. 
Unique Concrete Flooring Ideas For Your Home
Polished Concrete Flooring
It has become an appealing option for residential areas over the years. This concrete floor requires easy maintenance as they do not hold any grime, mud, or allergens. With simple mopping, you can clean the floor surface. In addition, its durability makes it invulnerable to any damages due to which it stays long for many years.
Moreover, it adds aesthetic beauty to your home. There are many designs and colors available which can change the entire interior look. The flooring also resists heavy floor traffic which can maintain its shine for several years. There is no need to wax or strip the surface frequently. 
Furthermore, the flooring also resists the oils, moisture, and chemicals. So, it is best to get its installation in the kitchen, garages, and storage areas. So, to buy the polished concrete floors in Melbourne, visit the stores and get a variety of designs and patterns according to your house style. 
Stained Concrete Flooring
This is a perfect flooring option in which stains are applied on the concrete floor. It is very durable and resists the wear and tear of the surface. The concrete stains do not chip off or peel away. 
In addition, the flooring can withstand ultraviolet sun rays which protect the floors from discoloration. Moreover, the stained concrete is highly flexible. You can add fine traces of colors, designs, and even customized patterns. Besides this, one single shade is also enough to complement the decor of your room. 
It requires a little cleaning as with a simple mopping, you can restore the shiny appearance of the concrete floor. This flooring is also water-resistant which prevents the growth of mold and won't spoil or decay. 
Vinyl Concrete Flooring
It is an artificial material preferred for residential areas due to its durability and flexibility. There are different types of Vinyl concrete flooring that are available in multiple designs:
Vinyl Tile: It typically looks like square stone tiles when assembled together. A professional adds the grout line between each tile to give the natural look. This concrete floor can be customized to look like natural stone or wood. 

Vinyl Sheet: This is a six to twelve feet single sheet that is available in different colors and designs. It looks like tile and wood. People mostly install them in larger areas of their house as they are very inexpensive and long-lasting. 

Vinyl Plank: It has a similarity to hardwood flooring whose mostly designs look like different kinds of wood. 
Advantages:
Easy Maintenance: Vinyl flooring does not need harsh cleansing. You can mop and do vacuum cleaning to keep the floors dirt-free. Additionally, the flooring is stain-resistant. With cleaning products and water, the stains can be removed easily. 

Comfortable and safe: Vinyl flooring is smooth to walk on as there is a soft coating of padding. 

Slip-resistant: It has an anti-slip property that reduces the fall and slips incidents in the bathroom and kitchen. 
Concrete Overlay Flooring
It is a colored or cement-based material that is generally applied over the existing concrete floor. It is mainly for repairing and decorating purposes. An overlay is the mixture of portland cement, various aggregates, and polymer adhesives. 
Polymer plays a key role as it sticks all the aggregates and other products firmly providing a strong bond to the existing concrete slab. Taking an example of self-leveling overlay, it is the most suitable to fix the rough or damaged surfaces having cracks or holes. You can add the colors during the initial blending of the overlay mixture. Consequently, it makes the concrete floor dense and long-lasting. 
Conclusion 
Whether it's your living room, kitchen, bathroom, or garage, different areas require distinct types of floor options. What's better than installing the mentioned concrete flooring in your home and getting the desired results. 
Along with beautifying the spaces, it also ensures durability. We hope you like our useful floor ideas.