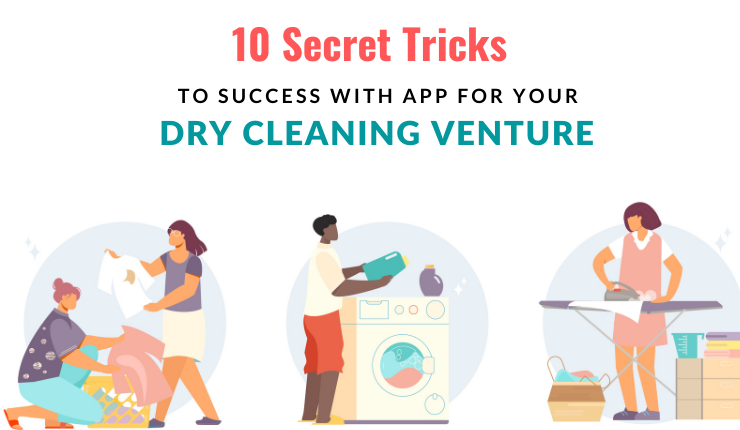 I am sure most of you feel lazy when it is a Sunday morning, and you remember that you have to do your laundry today! However as times have changed, so has it become possible for us to get acquainted with new ways of life (technology) that has made our day-to-day tasks much easier and more streamlined, so to speak. This is especially for the case of doing laundry. With the advent of the dry cleaning app and the online laundry service, in particular, the task of performing laundry has become automated. Simply with the click of a few buttons on the laundry app can customers get their laundry picked up from their location, and as per the specified date they mention on the app can they get it delivered back to them.
This has not only made their daily lives much easier. It equally has allowed the dry cleaning stores, the traditional brick and mortar ones to gain good online visibility. It has also allowed them (stores) to be able to showcase the services they currently render and side-by-side promote the new services they plan to start.
And the global online laundry market becoming a flourishing one. In fact, as per a report by Statista, it has been suggested that the market would grow at a CAGR of 10.9% by 2022 thereby generating a value of around 118 billion US Dollars.
You can also have a look at the graph below to gain insight into the profitable nature of the app for the laundry business.
Image Source: grandviewresearch.com
Looking at this graph, you can observe the revenues for the online laundry service to witness a stupendous rise by 2025. All this makes it quite clear. And in n case one is setting up a laundry business, it is equally also relevant to embrace on demand laundry app development services. It would be a good idea to implement some strategies while doing that. This will streamline success and maximize ROI, both side by side.
So let us begin.
How to Drive Success for Dry Cleaning Business with an App – 10 Tips I Recommend
Do Your Homework Well –
Before anything else, it is vital you first get an understanding of functioning; and what the business is all about. This includes conducting good market research along with having an idea of competitors. Doing so will ensure you provide the laundry services in sync with your customers' requirements.
Work Towards Driving Comfort –
This is another vital area you should consider when building the app. It is important to focus on including features that allow easy pick up and drop for the laundry, along with easy washing flexibility. This will ensure comfort to the maximum for your customers and ascertain that as and when they may require laundry services, they can receive the same, at their fingertips.
Make Your App a Gateway for Local Laundries –
Every locality possesses many laundries near its vicinity. However, locating the best is a tedious task indeed. Hence, with the help of the dry cleaning app, you should be able to not only help customers find the correct laundry but empower local laundry services to promote the services they provide. All this will go a long way in making the customers aware of the offerings of these dry cleaning businesses and allow the business to grow its visibility to a great extent.
Include Services that Assure Comfort –
One of the foremost responsibilities of the online laundry service is to ensure comfort to the maximum. This means the app should be able to eliminate the monotony of working on Sundays after a long work week for getting their laundry basket empty. Hence, it is suggested to include services that would allow them to get their laundry done easily and conveniently. Therefore, you can include features like wash-and-fold services, organizing laundry, and so on. All this will allow customers to get clean laundry delivered to them, ensure maximum comfort, and finally, help your business in the long run to get a good name.
Include Communication Mode for Customer Comfort –
Add in-app calls, messages, WhatsApp, etc, feasibility within your dry cleaning app. This will allow your customers to seamlessly communicate with the dry cleaners when they place a request for the laundry pickup and drop. Doing so will drive transparency for your business, and ensure trust to the maximum of customers towards your laundry venture.
Add Filters to Ease Laundry Pickup and Delivery as Per Customer Needs –
When implementing the dry cleaning app, include filters within so that customers can easily find what they are looking for based on the filters they place. This means, take, for instance, customers want a laundry within 10 miles, on adding the same within distance, they can find the list easily. This will ensure seamless laundry pickup and ensure easy store location and identification as well side by side for the customer.
Allow Easy Tracking –
This is another area you should focus on. You should include a real-time tracking tool so that customers remain aware of their clothes and their state. All of this will build a great level of trust among customers toward your laundry service. It will also prevent incidents such as wrong deliveries, or lost garments, as the store will also be able to get the awareness of the clothes that a particular customer had ordered for laundry. Hence, their information would be visible on the app containing details of clothes picked up, the garment material, etc.
Ease Record Maintenance –
This is a killer strategy crucial to your business's survival. Maintaining records ensures maximum transparency for business. This goes particularly for a laundry business. Until a time, due to the presence of registers that kept updating, it became a task to maintain records. But come online era, it is a good idea, especially when embracing an online laundry service for your business; your app should also be able to keep a record of transactions your customers made. This includes giving knowledge on sales you made, the orders placed by customers, etc. All this will automate business operations to a great extent for you.
Ease Payments for Services –
Your app should be able to ease payment for the services that your customers book. Hence, include multiple payment methods like cash, card, etc. All this will ensure that as soon as customers book a service, you receive payment thereby preventing incidents of late payments completely apart from helping you manage your transactions seamlessly.
Enhance Services based on Customer Rating and Reviews –
Based on the services you offer customers; they will simultaneously provide their respective ratings and reviews. This is something that you should make sure to keep a check on. This will give awareness of the satisfaction customers feel while using your app. It will also give knowledge on areas of concern and make it easy for you to work on them to deliver quality laundry services to customers.
Know 18 Must-Have Features of Any On Demand Laundry App
Summing Up
Undoubtedly, embracing online laundry service is a good business proposition for existing laundry stores; or ones that have not yet included it within their operations. However, when building an app, apart from determining the laundry app development cost, it also becomes crucial to keep some strategies within strict purview during the buildup to drive success for them (laundry venture) to the greatest extent. Therefore, before you embrace the on demand laundry app development services to your advantage, include some strategies like features to streamline laundry pickup and delivery. This is followed by services that guarantee seamless laundry offerings; and multiple payment methods. All this will drive maximum success for your new laundry undertaking, and also maximize ROI to the greatest extent.